Finding a Great Headphone is tough. A Lot of Choices can plague decision making. We have prepared the list of the Best Headphones for 2020 in the United Arab Emirates. Build Quality, Brand, Price, Features have been taken into consideration for finding the best headphones.
Best Headphones for 2020 in the United Arab Emirates
#1-

JBL Tune T500BT On-Ear Headphones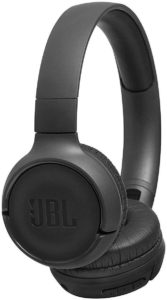 The JBL Tune T500BT is the Number One Selling Headphone on Amazon's List. It lasts up to 16 hours on full usage. Equipped with 32mm JBL drivers and JBL Pure Bass sound, these headphones provide easy access to great sound every time. The Headphones let users connect to Siri, Google Assistant, and Amazon Alexa. It comes with a built-in rechargeable Li-ion battery that supports 1 hour of playtime for just 5 minutes charge. It takes only 2 hours to recharge fully. The Lightweight material and foldable design make it stylish.
It has been rated 4.4 and remains one of the most affordable headphones from JBL. The Sound Quality is unmatched and comes with JBL's Pure Bass Sound Technology. The Design of the JBL Tune T500 is visually stunning. Users can buy it for just 180 Dirhams. This makes it one of the choices under 200 AED.
Best Features
Lasts up to 18 Hours

One-Button for All Functions

Great Sound Quality

Affordable Price
#2-

Sony MDR-XB550AP Extra Bass Headphones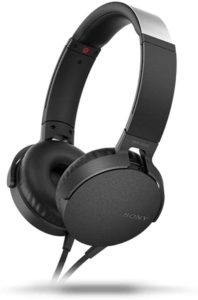 Sony's MDR-XB550AP Headphones are the next on our list. They are powered by 30 mm driver units that deliver exceptional sound. The Dynamic Frequency Response varies from 5- 22,000 Hz which is decent. It can take calls and switch tracks with the in-line remote and mic. The Build Quality is great and can easily up to 2 years.
Sony is one of the most trusted names for accessories. The 1.18 Inch Drivers deliver great sound along with comfort to the ears. It is available for only 149 AED on Amazon. It has all the qualities that can be considered for a great headset. The Bass, Sound Quality, Design, and Brand makes it one of the best choices for first-time users to hardcore gamers.
#3-

Jabra Evolve 20 Stereo Headset

Jabra's Evolve Series has been popular across the world. Jabra has been an exceptional brand when it comes to accessories. The Jabra Evolve 20 has superior call management which allows users to answer and end calls from the control unit and access the most used functions, such as volume and mute with ease. It has Noise Cancelling Feature which lets you cancel all background noise by just wearing the headset. The Evolve 20 can be set-up by using the USB port on your laptop.
The Jabra Evolve 20 is sleeker than its predecessors. Build Quality is great and can be considered for gaming. It weighs just 188 grams. The Bass Quality is decent considering its price. You can buy it from 239 AED on Amazon.
#4-

Beats Solo3 Wireless On-Ear Headphone – Black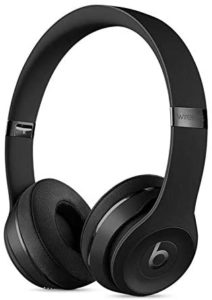 When it comes to the best headphones, Beats can not go unnoticed. Beats has been around for quite some time and has achieved cult-like status among youngsters. The Beats Solo3 is a wireless Headphone that delivers great comfort and exceptional sound quality. It delivers over 40 hours of battery life. Only 5 Minutes of Charge can deliver up to 3 hours of streaming. Beats is known for its sound quality and the Solo 3 doesn't disappoint.
It delivers the loudest sound and exceptional quality with its Fast Fuel Technology. The only downside can be its price which starts at 560 AED. Beats doesn't compromise on quality so you can be assured of its built.
#5-

JBL Pure Bass Sound Bluetooth T450BT Wireless On-Ear Headphones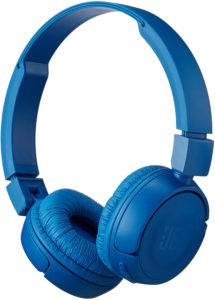 The JBL T450BT is one of the most affordable headphones out there. It starts at just 99 AED. It can be connected via Bluetooth 4.0 and lasts up to 11 hours on streaming. The Battery Life is decent considering its affordable price. It is certainly the best option under 100 Dirhams.
Specifications
| | |
| --- | --- |
| Driver Size (mm) | 32 |
| Dynamic Frequency Respons Range | Up to 20,000 Hz |
| Impedance | 32 |
| Number of Drivers | 1 |
Users can buy it from 99 AED. Price is inexpensive and can be considered for everybody.
#6-

Skullcandy S5PXY-L636 Riff On-Ear Headphones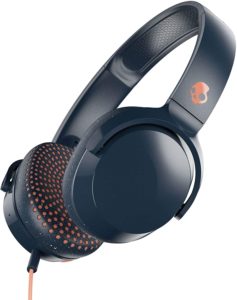 Skullcandy S5PXY is one of the most affordable options from Skullcandy. The 40mm drivers on the headphone make it extremely efficient. The Frequency Respons Rate can vary from 20Hz – 20KHz. The Bass Quality is great considering the price. Users can buy it for only 99 Dirhams.
Best Features
Lightweight and Comfortable

Ultra-Durable Headband

Refined Acoustics

Collapsible, Flat-Folding Design

Built-in Microphone
#7-Jabra Move Style Edition Wireless Bluetooth Headphones

Jabra's Move Style Edition is a limited edition Headphone made for select users. It has a battery life of over 14 hours and only 2 hours to charge fully. It delivers exceptional sound performance thanks to its 2- Microphone Technology. It is wireless so users don't have to handle the clutter of wires.
Best Features
Exceptional Sound Quality

Up to 14 Hours Usage

Limited Edition

Costs only 250 Dirhams.