Monitors have become extremely essential nowadays. They come in all forms and sizes. A Great Monitor can cost anywhere from a few hundred dirhams to several thousand dirhams. Whether you are looking for a monitor for your gaming or business requirements, we have prepared an extensive list of the best monitors in the United Arab Emirates.
Best Monitors for 2020 in the UAE
#1-

BenQ GW2480 23.8 Inch FHD Monitor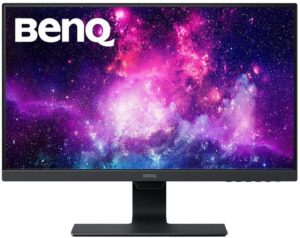 The BenQ GW2480 24 Inch Monitor is one of the best ones for small businesses. It comes with a Full HD 1920×1080 Display with extensive features like IPS, Brightness Intelligence, Low Blue Light, Flicker-free, Ultra Slim Bezel, Cable Management System, and HDMI support.
The IPS panel makes it super efficient even in terms of battery usage. It features a 178° wide viewing angle which makes the screen visible even from far away. The BenQ is inexpensive and starts at only 458 Dirhams. We would definitely recommend this to everyone.
#2-

ASUS 21.5 inch FHD Gaming Monitor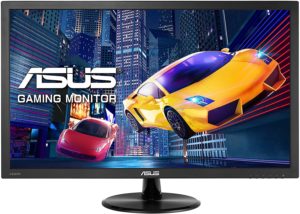 The Asus 21.5 Inch Full HD Monitor is especially aimed at gamers. It has a 1ms (GTG) quick response time to eliminate hiccups for more fluid video playback. It also comes with unique features such as Crosshair and Timer function for a better gaming experience The Panel is TÜV Rheinland-certified ASUS Flicker-Free. Connectivity includes HDMI, VGA, and D-sub ports.1.5-Watt stereo speakers are provided inside the box which makes it a complete set.
The Monitor comes with ASUS-exclusive SplendidPlus and VividPixel technologies which are optimized for the finest image and color quality. It is a great first buy for gamers and starts at only 389 Dirhams. Most of the tasks are done pretty smoothly on the ASUS 21.5 Inch Monitor.
#3-

Acer KG241 23.8 inch Full HD Gaming Monitor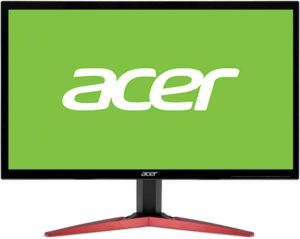 Acer's 23.8 inch Full HD Gaming Monitor comes with Full HD 1920 x 1080 pixel resolution. It has a response time of under 1 millisecond. The Refresh Rate for the Acer KG241 is an incredible 144 Hz which makes it extremely fast in every task. It comes with AMD Radeon out of the box. Other features include Flicker-less technology, freesync, and monitor tweaking.
The 350 nits LED Display is powerful and does a good job on all fronts. Users can buy it from 1,293 Dirhams. The only downside is it does not have speakers and you would have it purchase it separately.
#4- Asus ROG Swift PG258Q 24.5″ Full HD eSports Gaming Monitor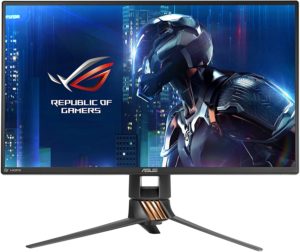 Next in the list is a beast by Asus. Asus's ROG Swift was recently introduced and quickly claimed up the top sellers' chart worldwide. The 24.5 Inch Monitor is especially aimed at gaming fanatics. It comes with 240 HZ Refresh Rate which makes it twice as powerful than any monitor. It is powered by NVDIA's G-Sync Technology.
Users can have an incredible experience if they have a dedicated graphics card on their computer or laptop. The Monitor comes with a 24.5 Inch LED Display with a resolution of 1920 x 1080 pixels. Users can buy it from 4,099 Dirhams.
#5-Dell P Series 24 Inch Screen LED-Lit Monitor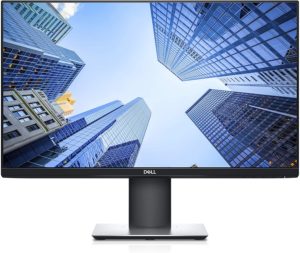 The Dell 24 Inch Monitor comes with a 1920 x 1080 pixel resolution. It has a response time of 8 ms and can go as low as 5 ms. It can be connected through DisplayPort, USB, HDMI, and VGA. The Monitor is one of Dell's mid-range monitors. It has a stunning display and is a visual delight. The only downside is that it doesn't have speakers inside the default package.
Users can choose to buy it from Amazon at 585 Dirhams. This remains the perfect choice for college students and gadget geeks.
#6-

Samsung 23.5-Inch Curved Monitor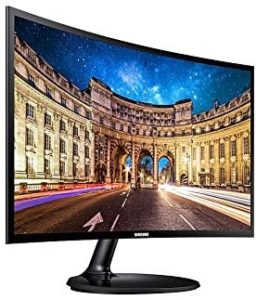 Samsung's very own 23.5 Inch Curved Monitor is the next monitor in the list. The Curved Display gives it a very spectacular design. It comes with a LED Display with a 1800R screen which features Eye Saver Mode and AMD FreeSync. The Display is 11.9mm slim which makes it as slender as a ballpoint pen. Samsung's eco-saving technology ensures that the Monitor doesn't take much power. It weighs under 3.3 kgs.
It comes with a 1920 x 1080 pixel resolution and has a contrast ratio of 3000:1. Users can buy it from just 422 Dirhams. Free Delivery is available for all users.
#7-

Asus 27-inch 144Hz WQHD FreeSync Gaming Monitor

The 27 Inch Gaming Monitor is massive in terms of size. It also comes with a 2560 x1440 resolution display with 1ms response time and ultra-fast 144Hz refresh rate. ASUS's Eye Care technology makes marathons even easier, reducing eyestrain and other eye ailments with TUV Rhineland-certified Bluelight filter and flicker-free backlighting. The Monitor is G-sync compatible with smooth gaming experience. The connectivity options include Dual HDMI, DisplayPort, and DVI.
It also comes with 2 W Speaker out of the box. The Screen Resolution stands at 2560 x 1440 pixels. It has been rated over 4.2 and is amongst the most sold monitors on the list. You can buy it from 2,100 Dirhams.
Read: Best Headphones under 699 AED
Read: Best Vacuum Cleaners in the UAE
Read: Best Hard Drives in the UAE
#8 –

BenQ 32 Inch 4K HDR Video Monitor

The 31.5-Inch LED 4K Ultra HD Monitor comes with 3840 x 2160 resolution. It also one of the few monitors that come with HDR support. Other features include Brightness Intelligence Plus technology and Eye-care technology. The Monitor can be connected with HDMI 2.0, DP1. 4, and USB-C.
The BenQ 32 Inch HDR Monitor is only for power users who want an impeccable visual experience and a big screen. Users can buy it from 1,949 Dirhams. The Monitor is one of the most affordable options in the 32 Inch Segment.
Read: The Best Laptops in the UAE
Read: Best Drones in the UAE
Check UAE's Best Deals and Discounts
Check Digital Media Expert