Looking to buy a treadmill that doesn't burn a hole in your pocket? We have made this list just for you. Treadmills have become essential as more and more people stay home and workout on their own. They have become affordable for the everyday user. We have included the best treadmills that you would be able to use to turn your home into a gym. A Lot of features such as Running Area, Speed Range, Sensors, Accessories, Max User Weight, Monitors can cause confusion to the consumer. So we have made the list for the Best Treadmills in the United Arab Emirates.
Best Treadmills in the United Arab Emirates
#1-

Sparnod Fitness STH-4200 Automatic Treadmill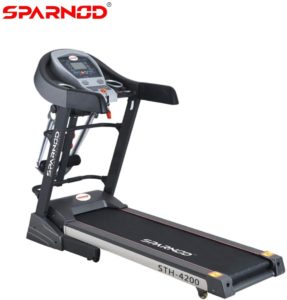 The 2.25 HP Continuous & 4.5 HP Peak Motor on Sparnod's Automatic Treadmill can support speed ranging from 0.8 – 14 KM/Hour. It also includes 3 count modes that would take care of jogging, walking, running & cardio workout at home. This treadmill is loaded with Multifunction utility including Powerful Massager, Sit-up, Dumbbells and Twister for Hips, Thigh, and Stomach, etc.
There is plenty of space on the treadmill to do everything ranging from walking to running. It can carry a maximum weight of 125 Kgs. It also includes a 5 Inch Display Monitor that tracks Calories, Distance, Speed, Heart Rate, and Time. You can buy it from 2,299 Dirhams on Amazon. It also comes with a free Installation Service that is the icing on the cake.
Best Features
Up to 14 KM/Hr Speed

Max User Weight – 125 Kgs

Turns your Home into a Gym

5 Inch Display Monitor that tracks everything

3 Count Modes
#2-

Powermax Fitness TDA-230M Motorized Treadmill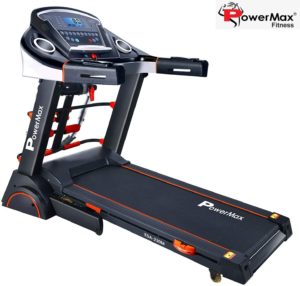 The Powemax Treadmill comes with a 2 HP Conitionous Motor and 4 HP Peak Monitor that has the auto-inclining capability. It includes a 15-Level Auto Incline for an intense workout that would get your day going. The 5 inch Bright Blue LCD Display tracks Speed, Time, Distance, Calories, and Heart Rate. It also can carry maximum user weight up to 115 kgs.
The Treadmill looks sleek and has the ability to perform great tasks. It can be used for running, jogging, and walking. It comes with a 3-year motor warranty. It can be bought for 2,199 Dirhams on Amazon. It weighs around 66 Kgs and can be installed anywhere in your home.
Best Features
Auto Incline Feature that burns 15% Additional Calories

Max User Weight- 115 Kgs

5 Inch Monitor

Large Running Area

Assembly Kit and Lubrication Oil Included

Affordable Price
Find UAE's Exclusive Promo Codes
#3-

Skyland Home Treadmill (EM-1249)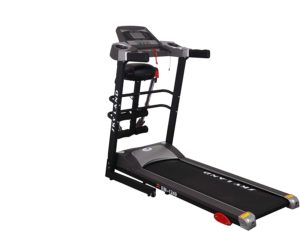 The Skyland EM1249 features a DC Motor with 2.0 HP. The Speed Range can be set from 0.8 to 12.0 km/hour. It features a running surface of 1200x400mm that is more than enough for most users. It is installed with 12 programs that can track speed, calories, Heart Rate, and Distance. It also has other unique features that let users play music and videos.
It comes with a 1-year warranty and can be bought for 1,899 Dirhams. It has been rated 4.2 out of 5 on Amazon.
Best Features
12 Programs that let you perform multiple tasks

Up to 12 KM/hr

2.0 HP Motor

Turns into your home into a gym
#4-

Kettler Ktlr Treadmill Axos Sprinter 4

The Kettler Treadmill AXOS Sprinter 4 includes a suite of 28 programs. It is certainly the best choice for sprinting. It comes with a 1.25 HP electronic motor that is perfect for beginners. The treadmill can reach speeds from 1km/h to 16km/h and can be adjusted in 0.1km/h increments. It also comes with Incline Feature that lets you burn extra calories. The treadmill is also foldable. This would mean that extra space in your home can be saved. It is also equipped with wheels and can be shifted anywhere in your home. You can choose to buy this beast for 2,925 Dirhams.
Best Features
Continuous Duty Motor with 1.25 HP

Speed: 1 – 16 Km/H

Display Monitor that tracks Duration, Distance, Speed, Incline, Calories, and Heart Rate

Under 3000 Dirhams
#5-

WalkinPad 1432 WPA1F Fitness Treadmill

Want to just walk to do nothing else? WalkinPad has the perfect treadmill for that. It weighs around 28 kgs which is half of what the average treadmill weighs. It is so compact that it just doesn't capture much of your home's space. It is the best option if you want a treadmill for walking. It can also be folded in half. WakingPad is owned by Xiaomi which makes the most affordable hardware on the planet. You can buy this Treadmill for just 2,699 Dirhams.
Best Features
Speed of up to 0.5 to 6 kilometers per hour

Weighs under 30 Kgs

Max User Weight – 90 Kgs

App or remote controlled

Embedded LED Display

Mobile Connectivity

Under 3000 Dirhams
Read: Best Drones in the UAE
Read: Best Hard Drives in the United Arab Emirates
#6-

Folding Digital Portable Electric Treadmill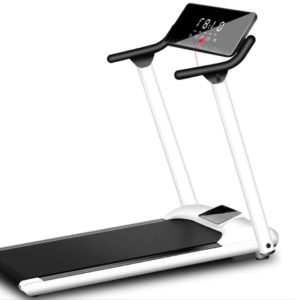 Looking for a futuristic treadmill? Folding brings you its Electric Treadmill. This Machine can be folded as long as 0.5㎡, covering only 0.2㎡, to save space. This 56 cm treadmill comes with a diamond running belt that is slip-resistant, magnetic security lock, and run security. It also supports varied pace, walking, and jogging. Users can buy it from Amazon at 3,925 Dirhams.
Specifications
Running belt area: 40X95cm

Running platform width: 54cm

Expanded size: 110X65X130cm

Folding size: 110X65X19cm

Peak horsepower: 0.75hp

Packing size: 115X70X19cm

Maximum load: 100 kg load limit

Gross weight: 22kgs
Best Features
Compact and Sleek

Weighs under 25 Kgs

Portable and be carried anywhere

Under 4000 AED

Futuristic Design
#7-

Sparnod Fitness STH-3000 (4 HP Peak) 2 in 1 Foldable Treadmill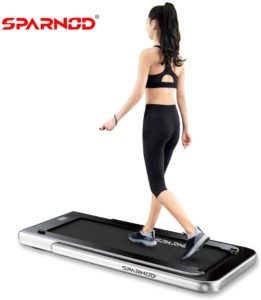 The Sparnod Fitness STH-3000 does not require any assembly required and you can just plug and run the treadmill. It comes with a Lifetime Frame Warranty, 3-Year Motor Warranty, and 1-Year Parts & Labor Warranty. The Max Weight that this treadmill can take is 110 Kgs. It is powered by a powerful 2.25 horsepower motor that is manufactured to be whisper silent with formulated multi-layer shielding. It has dual-modes for walking and running. The Walking Mode would range in speed from 1-4 Km/hrs. The Running Mode would range in speed from 1-12 Km/Hrs. Sparnod is also a well-known brand in the United Arab Emirates. Most of its products are displayed in Gyms in Dubai, Abu Dhabi, and Sharjah.
Key Features
Top Speeds of 12 km/hr

Walking Area of 400 x 1100mm

Multi-functional LED display

Built-in Bluetooth Speaker and Phone Bracket

Dual-Mode Display ( Walking and Running)
It is currently selling for around 1,599 Dirhams which can be brought down by 200 Dirhams by using Amazon's Coupon. It has been rated 4.2 and is amongst the most sold Treadmills in the UAE.
#8-

Sunny Health & Fitness SF-T1407M Manual Walking Treadmill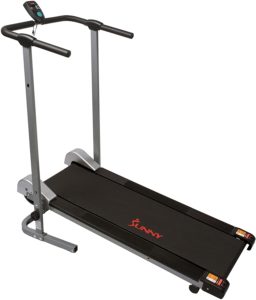 Sunny's Manual Walking Treadmill is the most affordable on the list. It starts at 599 Dirhams and is great for beginners. Most people want to lose weight and they want a affordable treadmill that works. This means solid performance, durability, and features have to suffice the consumer's need. This Treadmill comes with an LCD Monitor that tracks fitness goals on time, speed, distance, and calories. it can carry up to 220 lbs as max user weight.
Specifications
Product Dimensions: 49L X 23W X 50H; Folded Dimensions: 20L X 23W X 50H

Running Surface: 42L x 13W inch

Max Weight Capacity: 220 lbs
Best Features
Costs under 600 AED

Best Treadmill for Beginners

Tracks Every Movement

110 Kgs Max User Weight
#9-

PowerMax Fitness MFT-410 4 In 1 Multi-Function Manual Treadmill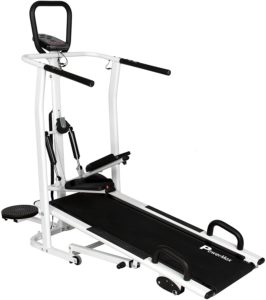 Powemax's Fitness MFT-410 is one of the cheapest multi-functional treadmills launched by the Company. It comes with Window LCD display – Speed, Time, Distance, Calories, and Heart rate. It also includes a 3-Level Manual incline which lets you adjust every setting for a more intense workout. It can carry max user weight of about 120 Kgs. Four Modes include Jogger, Stepper, Push Up Bar, and Twister. It costs around 799 AED and definitely can be considered as one of the mid-range treadmills in the UAE.
FAQ's
Q: How to Choose the Best Treadmill?
A: Treadmills have a variety of features such as Sensors, Monitors, Running Space, Multi-Functionality, Max Weight, and Motors. You have to scrutinize and choose the best one for you. It should have the features you desire and should be inside your budget.
Q: Do Treadmills have Warranty in the UAE?
A: Most Treadmills come with a lifelong frame warranty and 3-year motor warranty.
Q: Is Installation for Treadmills Free?
A: Most Companies Offer Free Installation. Some Companies in the UAE charge a small fee.
Q: Which is the Best Price Point for Treadmills?
A: Treadmills can range from several 100 dirhams to thousands of dirhams. Additional Features are installed with higher prices. The Best Price for most treadmills is under 2000 AED.
Q: Where you can buy Treadmills in the UAE?
A: You can buy Treadmills on Amazon, Noon, and Sharaf DG.
Q: How to Switch Modes on Treadmills?
A: Modes can be switched by the remote that comes inside the box. It can also be done via the LED Monitor.
Q: Should I Choose a Foldable Treadmill?
A: If your home has less space to operate in, you should definitely choose a Foldable Treadmill. They are affordable and don't take unnecessary space.
Read: Best Cameras in the UAE for 2020
Read: Best Laptops in UAE for 2020
Read: Best Headphones under 699 AED
Read: Best Vacuum Cleaners in UAE
Visit Amazon UAE Coupons and Discount Codes
Visit VogaCloset Coupons