Air Fryers are the new cool things in the town. Many People are shifting to consuming less oily and greasy food. Delicious Food can be made with relatively less oil and heat with these tiny machines. Those Crispy Chicken Wings and French Fries have become tastier with lesser trans-fats with Air Fryers. Most Homes in the United Arab Emirates have at least one Air Fryer nowadays. The Trend of a Healthier Life has entailed the need for more home appliances that solve the problem of burning calories. We have prepared the list of the best air fryers in the United Arab Emirates.
Best Air Fryers in the United Arab Emirates
#1-

Black+Decker 1500W Digital Air Fryer

The Black & Decker 1500W Power Digital Air Fryer comes with 4L Gross Capacity with a 1.2kg food basket with Safety Lock. You can fry, bake, and roast your favorite dishes including Chicken Wings, Mutton Sheek Kababs, and French Fries with temperature ranging from 80-200 C. It is powered by AeroFry Technology which ensures you can cook even without oil as well. The Air Fryer is pretty easy to use and configure. The Manual tells you how to operate with no hassle.
Black and Decker is a respectable and known name in the United Arab Emirates. Its Appliances always comply with all procedures and come with custom technology.
Best Features to
Rapid Air Convection Technology

6 Easy to Use Functions

Compact

Up to 70% Lesser Calories

4 L Capacity

Brand Viability
Users can buy this Air Fryer for 352 AED. It is one of the best selling models of 2020 and also top-rated. It is affordable and makes life easier without the need for manual cooking. We would recommend this to everyone from bachelors to housewives.
#2-

Philips Air Fryer (HD9220/20)

Philips 1425 Air Watts Air Fryer is powered by Rapid Air Technology that lets you fry, grill, roast and even bake. You can bake cakes, toasts, biscuits, and cookies with this air fryer. The Ability to cook anything within minutes makes it truly unique. It reduces up to 80% fat with rapid air technology. This means healthier food and lesser calories. It weighs under 7 kgs and is one of the compact air fryers ever built.
Users can get a 1-year warranty. You can buy it from 449 AED. It has great overall features and appeals to all parameters. If you want healthier food and all options to cook anything, you can go with this air fryer.
Read: Best Treadmills
Read: Best Vacuum Cleaners
Read: Best Laptops
#3-

Tefal Easy Air Fryer (EY401D27)

Looking for an air fryer than does not use oil? Tefal's Easy Air Fryer is the solution. It comes with XL Capacity up to 4.2 Litres and can serve 6 people in one go. The Temperature can be set between 80-200C. Tefal has been constantly been consistent with quality and built of its air fryers. This Air Fryer uses a digital interface and does not have physical buttons. This means that you would not have to worry about breaking the buttons. Futuristic Design ensures more customization options.
Best Features
Uses No Oil

Temp up to 200C

Built Quality

Digital Panel

Bake, Fry, Fry, and Grill

Up to 90% Lesser Fat
This Fryer is available for 499 AED on Amazon. The Build Quality on this air fryer is to die for. The Panel ensures smooth customization options. It is pretty easy to use for the average homemaker.
#4-

Ninja Air Fryer AF100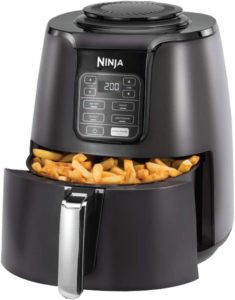 The Ninja Air Fryer AF100 uses 1550 Watts of power. This Compact Fryer is also used by the famous personality, Ellen DeGeneres. It uses losses amount of power to the output it can deliver. It uses little to no oil to cook, bake, fry, and bake food. Whether you are looking to make some cookies or bake cake, this fryer would do the best job for you.
Best Features
50 Percent Faster than Fan Ovens

6 Cooking Functions (

Max Crisp, Air Fry, Roast, Bake, Reheat and Dehydrate )

75 Percent Less Fat than traditional frying

Includes 5.2-liter non-stick basket

Up to 200C Temperature

Weighs 6.6 Kgs

Cooks Great Food
The Ninja Air Fryer AF100 will set you back 499 AED. The Price is definitely worth it if you look at the long haul. The Grey and Black Version look of the fryer is captivating. Easy of use and great features makes this a great buy.
#5-

Saachi 3.2 Liter Air Fryer, NL-AF-4770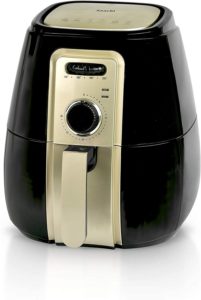 The Saachi Air Fryer uses 1425 Watts of Power to cook, bake, and fry food. With its unique rapid air technology, the Saachi air fryer enables you to make the most delicious meals that contain lesser fats than conventional fryers. The Air Fryer comes with a detachable 3.2 Litre Food Tray that allows you to plenty of food. It is also power-efficient than traditional cooking methods and saves electricity costs.
Best Features
3.2 Liters Capacity

30 Minutes Timer

50% Faster Frying

Rapid Air Technology ( Uses No Oil )

Max Temperature – 200 Degrees

Overheat Protection

Built to Last
Saachi has been known for making affordable air fryers. This Model costs 399 AED and can be found on Amazon. It has great functionalities and is better than traditional frying models. You should definitely go for it.
Visit Ounass UAE Discount Codes
Visit 6th Street KSA Coupons
Visit R&B Fashion UAE Coupons
#6-

Philips HD9860/91 Premium Collection Air Fryer, with Smart Sensing Technology for Healthy Cooking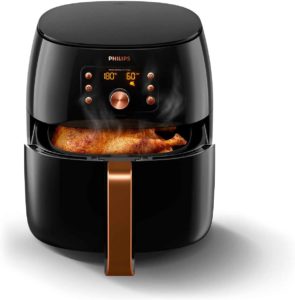 Looking for a more advanced Air Fryer? The Philips Premium Range Airfryer XXL comes with Smart Sensing technology. It is the only Air fryer that automatically adjusts time and temperature during cooking for making perfect dishes. The Air fryer is a perfect mix of power and performance. It uses 2225 watts of power and comes with a 7.4 Litre detachable food tray. You can feed more than 4 people in one serving.
Best Features
Smart Sensing technology

Smart Chef programs ( Pre-Programmed for Favourite Dishes)

Feeds more than 4 people

Integrated Air Filter

30 Minutes ( Cooking Time )

Cooks up to 200 Degrees Temperature
This model comes with a 2-year warranty. You would have to shell out more money for this one as it costs 1,899 Dirhams. You can choose to buy it on Amazon. It is worth it for the SmartSense Technology.
#7 –

ENKLOV Air Fryer

ENKLOV is a niche player in the appliances category. This model is powered by 1700 Watts and comes with a 5 Litre detachable food tray. It comes with 11 in 1 Cooking Setting which essentially cooks Steak, Poultry, Seafood, Shrimp, Bacon, Frozen Foods, French fries, Vegetables, Root Vegetables, Bread, Desserts in one click. It makes great fries, ribs, shrimp, cake, chicken, steak, and fish. It also helps in decreasing fatty food content and prevents from cardiovascular diseases. It comes with a LED panel which lets you control every aspect ranging from temperature to types of dishes.
Best Features
LED Panel ( Monitor Every Aspect )

Uses No Oil

5 Liters Capacity

1700 Watts of Power

50 Recipes ( Pre-Installed )

85% Lesser Fat
The ENKLOV Air Fryer is a solid machine that delivers on design, built, and food quality. You can get a 5% Instant Discount on your order for a limited time. The Fryer starts at 394 Dirhams. It is affordable and comes with the best features. If you are looking for a great air fryer for a family of 4, this remains one of the best choices.
Read: Best Gaming Consoles
Read: Best Cameras
Visit Daily Mealz Coupons
Find Exclusive Coupons for Saudi Arabia