Coffee Machines have become fairly common in the United Arab Emirates. We can find great coffee makers in every home in Dubai, Abu Dhabi, and Sharjah. We will tell you the Best Coffee Makers available in the UAE right now. You can instantly make many types of coffee with these machines and it saves a lot of time. Boiler Capacity, Stream Pressure, Usability, Quality, Built have been considered for choosing the best coffee makers.
Looking for a great coffee maker that can make espresso, cafe latte, and cappuccino? We have prepared the list for the Best Coffee Makers in the United Arab Emirates.
Best Coffee Makers in the UAE
#1-

Saachi Coffee Maker/Machine, NL-COF-7056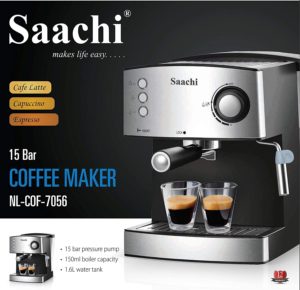 Looking for an affordable coffee maker? Sachi's Coffee Maker is the perfect choice for you. This all in one coffee maker can make a variety of coffee beverages such as cappuccino, espresso, NS cafe lattes. The maximum capacity of its boiler is 150ml which is alright for the price. The Max Capacity also means that you can't make more than 2 coffees is one go. The Coffee Maker uses an automatic steam pressure pump of 15 bar and a transparent removable water tank of 1.6 Litres.
Important Specifications
#5- Nescafe Dolce Gusto Mini Me Coffee Machine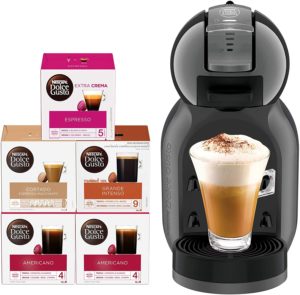 How can we miss out on Nescafe when we mention the word "coffee"? Nescafe is an instrumental name in the world of coffee. The Machine can make over 16 coffee creations including intense espressos, smooth cappuccinos, aromatic Grandes, even hot chocolate, teas, and many more. It is much more than just a simple coffee machine. It is equipped with a maximum 15-bar pump pressure that delivers stunning results on thickness, brew, and strength. Users can buy it for 849 Dirhams. It ships with a 2-year warranty. We would recommend this to every hardcore coffee lover.
Best Features
15-bar pump pressure system

Makes up to 12 Varieties including hot chocolate and cold beverages

Weighs under 15 Kgs

Comes with 5 Capsule Boxes

Amazing Quality

Costs under 900 AED
#6-

Wacaco Nanopresso Portable Espresso Maker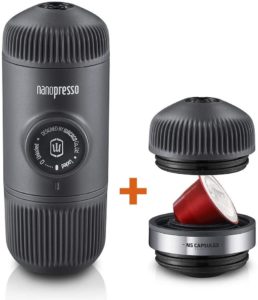 Wacaco Nanopresso has an 18 bar pump system that is capable of delivering great espressos in minutes. The Coffee Maker looks stunning and does what it proclaims. Nanopresso's ergonomic design and shorter length make it your travel companion of choice. Nanopresso water tank can hold up to 80ml of water which is good enough for only 1 cup of coffee.
It is portable and can be carried anywhere which makes it special for traveling and camping. Users can buy it for just 299 AED from Amazon. We would recommend this for espresso lovers.
#7-

Kenwood Coffee Maker (CM200)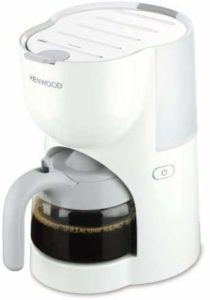 Are you looking for an affordable Turkish coffee maker? Kenwood CM200 is here to solve that problem. It weighs under 2 Kgs and is amongst the most inexpensive coffee makers out there. It Includes no display panel and has just 1 button. It also includes a non-drip device which means the jug can be removed at any time while coffee is brewing. It has the ability to make 6 cups up to 500 ml whichever is lower. Users can buy it for 132 Dirhams. If you are looking for a basic coffee maker, this would be the most obvious choice.
Specifications
| | |
| --- | --- |
| Type | Turkish Coffee Maker |
| Weight | 1.2 Kgs |
| Energy Consumption | 650 Watts |
| Output | 6 Cups in One Go |
| Dimensions | 24.3 x 17.2 x 19.4 cm |
| Capacity | 500 Ml |
| Material | Plastic |
The main downside for this machine is that it uses Plastic Material Instead of Stainless Steel. This would mean that it could break up far easier. This can be a decent pick for beginners.
#8-

DELONGHI ESPRESSO & CAPPUCCINO MAKER (EC685)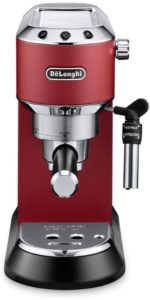 DeLonghi is a reputable name in the coffee industry. It is well known for producing the best coffee machines on the Planet. Delonghi's EC685 uses Thermoblock technology to keep water at the right temperature required to brew perfect espresso coffees. It uses double trip trays that allow you to use mugs and glasses up to 12 cm tall. This is a pretty impressive feature.
The Machine uses the 15 bar pressure which creates authentic Espresso with a rich aroma and nut colored crema on top. The only downside is that it uses 1300 Watts Power which can be detrimental to the electricity bill. Users can buy this maker for 788 Dirhams. We would definitely recommend this one to everyone. DeLonghi is one of the best coffee makers out there.
Visit Namshi UAE Coupon Codes
Visit Mothercare UAE Coupons
Visit VIP Brands UAE Promo Codes
Coffee Maker FAQ's
Q: How to Choose the Best Coffee Maker in the UAE?
A: You have to look at the Power Consumption, Material, Bar Pump System, Display, Usability, Brewing Quality, Built to choose the Best Coffee Maker. The Ability to make coffee should remain the top feature.
Q: What is the Best Price to pay for a Coffee Maker in the UAE?
A: Great Coffee Makers often cost lesser than 500 AED. It includes the best of the brands with a 1-year warranty.
Q: Can Coffee Makers make Cold Beverages?
A: Yes, many coffee makers have the ability to make cold beverages including coffee and tee. They usually cost a bit higher.
Q: How can you make coffee with a coffee machine?
A: Most Coffee Makers are automatic. This means that you only need to click a button to make the coffee. Manual Coffee Makers take more effort.
Q: Can I Choose the strength of the coffee?
A: Yes, Most Coffee Makers have the ability to choose strength. You can choose the strength by clicking the buttons on the LCD Display.
Q: Do Coffee Makers take more power?
A: Most Coffee Makers do not consume much electricity. They are usually power-efficient.
Q: Which are the Best Brands for Coffee Makers in the UAE?
A: Black & Decker, LG, Nescafe, Sachi, Wacaco, Arzum Okka are among the best brands for coffee makers.