Desktop Computers are powerful machines that can carry a wide array of tasks. Whether you want one for gaming or for your business, we will tell you the exact computer you should invest your money in. Computers are mostly once in a while buying decisions and should be taken with intense scrutiny and reading reviews. 2020 is the best time to buy computers as they have become more affordable. The Battle for providing more value to the customers as led to an intense drop in the price of computers over the years. We have prepared a list of the best Desktop Computers that you can buy in 2020 in the United Arab Emirates.
Best Desktop Computers in the United Arab Emirates
#1-

Dell Inspiron 3480 All In One PC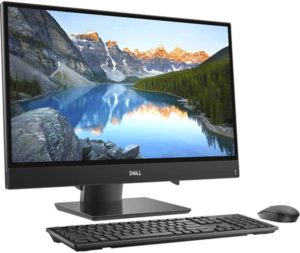 Dell has been known for producing the best computers and laptops in the Electronics category. The Inspiron 3480 comes with a resolution of 1920 x 1080 pixels. It has a 23.8 Inch Touch Screen Display and is powered by Intel's i5 8th Generation Processor. It uses DDR4 SDRAM and comes with 8 GB RAM. It also comes with a 1 TB Hard Disk Drive and Windows 10 Pro. The Default Package includes a Wireless Mouse, Wireless Keyboard, Actual Unit, and Windows 10 Pro. A Webcam with 720 Pixels comes with the PC.
Dell has gone great lengths with the Inspiron 3480. The Price for the Dell Inspiron 3480 starts at 3,480 Dirhams. It is highly recommended for small businesses and college students. The Affordability of the PC along with solid features makes it a great investment.
Best Features
1 TB HDD ( Can be Upgraded)

Windows 10 Pro Installed

Comes with Wireless Mouse and Keyboard

Pro on Resolution and Screen Quality

8 GB Ram ( Can Be Upgraded)

i5 8th Gen Processor

Costs under 3500 AED
Check out Exclusive Offers for the United Arab Emirates
#2 –

HP All-in-One 200 G3 i3-8130U PC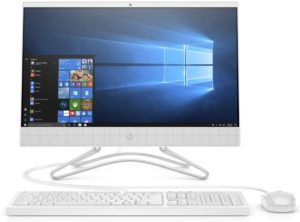 The HP 8130U is a pretty good overall choice. It scores high on performance with 480GB SSD and 8 GB RAM. SSD Ensures smooth performance with superior content delivery. You can install an HDD on the 8130U for more storage. The Screen Size is 21.5 Inches Full HD with Windows 10 Pro Installed. It Weighs under 6 Kgs and is pretty compact. This PC also comes with Keyboard and Mouse inside the box.
Best Features
Touch Screen Monitor

21.5 FHD Display

Weighs under 6 Kgs

Costs under 2,500 AED

480GB SSD (Superior Performance)

Compact
The HP 8130U Desktop PC would cost you only 2,325 AED. It is inexpensive and can be considered for most businesses who require a compact PC. HP never compromises on quality. This PC is on an overall basis a sweet deal.
Read: Best Inkjet Printers in the UAE
Read: Best Laptops in the UAE
Read: Best Treadmills in the UAE
#3-

Apple iMac MRR12 (2019) Desktop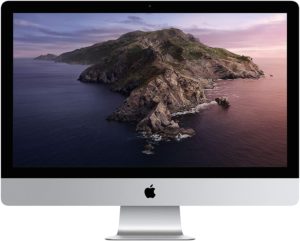 Apple has revolutionized the computer industry. iMacs can be seen everywhere in Dubai, Abu Dhabi, and Sharjah. Apple's iMacs are among the most powerful devices. The 27 Inch Screen comes with an insane 5120 x 2880 Resolution. The iMac MRR12 is powered by Intel's i5 processor with 8 GB RAM. It comes with massive storage of 2 TB. It uses AMD Radeon Pro 580X 8 GB Graphics Card to deliver superior performance. It looks visually stunning with Retina 5K Ultra HD Display. macOS makes it all the more special with usability and user experience. It is beyond amongst the top desktop pcs you can buy in 2020 in the UAE.
Best Features
3.7 GHz Intel's i5 Processor

AMD Radeon Pro 580X Graphics Card

2 TB Internal Storage

Insane Resolution of 5120 x 2880 pixels
Users can buy this beast for 8,690 Dirhams. Apple is known for delivering outstanding performance and quality. This Beast is built to last and is definitely great for every business. Stunning Performance and User Experience is delivered by mac OS.
#4-

Lenovo Ideacentre AIO 520 All-in-One Desktop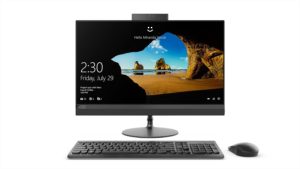 Lenovo Ideacentre AIO 520 comes with 23.8 Inch Full HD Display with a resolution of 1920 x 1080 pixels. It is powered by Intel's i5-8400T 8th Gen Processor and comes with 8 GB RAM. The Internal Storage for the Ideacentre AIO520 is 1 TB HDD. It also comes with a dedicated graphics card i.e AMD Radeon™ 530. It comes with a 1080p Webcam.
Best Features
1920 x 1080 Pixel Resolution

Intel's i5 8th Gen Processor

1 TB HDD Storage

3 Watts Speakers (2)

5 USB Ports and 3 HDMI Ports

Up to 250 nits brightness

Costs about 3000 AED
You get a bunch of features with this PC at only 3000 AED. A Dedicated Graphics Card, 1 TB HDD Storage, and i5 8th Gen Processor are great features that back the fabulous machine. You can go for it without thinking twice.
#5- HP Desktop Computer, Intel 4-Core i7-7700T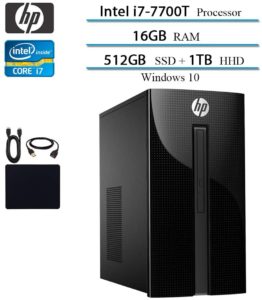 Looking for a powerful computer tower? The HP Desktop is powered by the Intel 4-Core i7-7700T processor, up to 3.8GHz, eight-way processing performance. It has 16 GB RAM along with 512 GB SSD and 1 TB HDD. That is pretty insane computing power. Whether you are a student or a business, HP's Desktop Tower won't disappoint you. It comes with a keyboard, mouse, USB extension cord, Mouse Pad, and HDMI cable.
The Only Downside is that it doesn't come with a monitor. Computer Towers are extremely energy efficient and combine all the components of a computer into one. This HP Computer Tower costs about 2,999 Dirhams. If you are looking at insane gaming or high-end graphics, this is the most obvious choice. It has insane computing power and comes with a lot of performance upgrades.
#6-

Dell OptiPlex 7060 Tower Desktop PC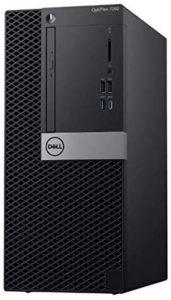 How can we miss out on the Dell OptiPlex 7060 Desktop PC when we talk about the "Best Desktop PCs"? If you are thinking about any parameter with regards to computing power, The Dell OptiPlex beats down the competition hands down. It is one of the most powerful PCs built by Dell. It is powered by Intel Core i7-8700 Processor with 32GB DDR4 RAM. The Intensity of Games that can played with 32 GB RAM is unimaginable. It comes with 1TB HDD + 240GB SSD Storage. It comes with 4 GB AMD Radeon RX 550 Dedicated Graphics Card which helps with high-end gaming. It comes with Windows 10 Pro Installed.
Best Features
Powered by 3.2GHz Intel Core i7 8700 Processor

AMD Radeon RX 550 Graphics Card

32 Gigs of RAM ( Delivers Mindblowing Results)

1 Terabyte of HDD Storage and 240 GB SSD ( Can be Upgraded)

Costs under 3500 Dirhams

Windows 10 Pro
It will set you back by only 3,317 Dirhams. This Price is insane considering the amount of power you get on this PC. This also does not come with a monitor which remains a downside. A Good Monitor would set you back by close to 700-800 AED. This would still cost still less than iMac's and deliver far superior results. It is the Number One Seller on Amazon's Best seller's list. We would give a rating 5 out of 5 on every criterion.
#7-

HP ENVY Curved All-in-One 34-b100ne Desktop

Looking for a 34 Inch Curved Desktop PC? HP's Envy 34-b100ne PC is here to give just that. The Mindblowing Display will leave you in awe every time. The Envy PC is powered by Intel's Core i7-8700T Processor. This is the same processor that powers the Dell OptiPlex 7060 Desktop. The 34-Inch curved diagonal widescreen ultra-wide QHD Screen comes with a 3440 x 1440 resolution and an IPS Display. For Storage, the Envy uses 1 TB HDD + 256GB SSD. It comes with a dedicated 4GB VGA-GeForce GTX1050 Graphics Card along with 16 GB RAM.
Best Features
34 Inch Curved IPS Display ( Looks Stunning)

Comes with Windows 10

Resolution of 3440 x 1440 pixels

Costs under 9000 AED

1 TB HDD + 256 GB SSD Storage

Lag-Free Gaming

Supports USB-C
It delivers stunning results with daily tasks and high-end computing tasks. The Curved Desktop is an apt choice for content creators, programmers, gamers, and business owners. Content Creators can get great and fast experience with video editing. Be prepared to shell out a lot of money for this monster. It would set you back with 8,799 AED. You wouldn't have to compromise with performance issues on this one, so it would be a wise choice.
Read: Best Hard Drives
#8- Microsoft 28 Inches Touch Surface Studio 2 LCD All-in-One Desktop PC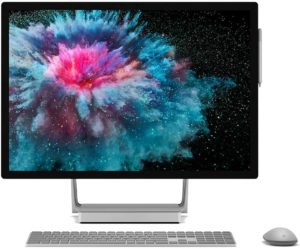 Microsoft has made great strides with its Surface Series. It is picking market share by the hour with its latest computers. Satya Nadella, CEO of Microsoft has transformed the Company from its dominance in software to achieving great strides with hardware. It invests a lot of money in Research and Development which has helped it sail through in building great computers.
The Microsoft Surface Studio 2 comes with a 28-inch PixelSense™ Display with 4500 x 3000 (192 PPI) resolution. It has a 3:2 aspect ratio and 10 points multi-touch system to control the monitor. You can either choose 16 GB RAM or 32 GB RAM with the PC. The PC also features a 5.0MP front-facing camera with 1080p HD video quality. The Surface Studio 2.0 comes with an Intel i7-7820 HQ 2.9 GHz Processor which makes gaming a breeze. The NVIDIA GeForce GTX 1060 on the Surface 2 handles multiple tasks with ease. You can achieve enormous amounts of creativity with the Surface Pen and VR.
Microsoft's Studio 2 is by far the best PC made by the Company. It also comes with 1 TB SSD Storage which would help you with faster storage. Content Creators can edit videos very quickly with this PC. The Only Downside would be its price. This Starts at 15,000 Dirhams. You get your money's worth with the hardware on this desktop. Surface Pen, Surface Mouse, and Surface Keyboard come inside the box.
Desktop PC Buying Guide
Choosing the Right Screen Size
Choosing the Right Screen Size is one of the most important things you should do while considering to buy a Desktop PC. PC's typically range from 18 Inches to 34 Inches. A 21 and 24 Inch Screen would be better for a small to medium-sized business. A 27 to 34 Inch Screen would be great for large business and content creators. A Larger Screen ensures good room for doing multiple tasks including video editing, programming, designing, business operations, and other things. A Great Screen effectively reduces the strain on the eyes and lets you concentrate on core operations.
Choosing the Right Display Resolution
Most people do not accurately understand the importance of Display Resolution. The Display Resolution has a direct impact on the picture quality of the Desktop. More Pixels indicate brighter colors and sharper picture quality. Screen Sizes have a direct impact on the number of pixels installed on a PC. For Example, a 19-inch screen typically has a resolution of 1280 x 1024 pixels.
Some More Examples:
2K resolution is

2048 × 1536

pixels
4K resolution is

4096 × 3072

pixels

A 24-inch screen has about 1900 x 1200 pixels.
More Pixels typically ensure better picture and video quality. A 4K PC would perform far better than 2K PC. If you own a small business, choose a PC with 1900 x 1200 pixels. A 4K Display would suffice many hardcore programmers, companies, and organizations.
Choosing the Right Processor
For Most People, Processors determine the buying decision for a computer. Processors are often misunderstood by the general people. Most Processors on the Planet are built by Intel and AMD. Intel's Processors are mostly preferred by companies. The "I" on the Processors means "Intel". 3,5,7, and 9 are the chipsets used by Intel. They Determine the computing power of the overall chipset. An i3 Processor would pack lesser power than an i5 Processor. i9 is Intel's Latest Processor. Most people should choose an Intel i5 or Intel i7 Processor. Both pack great power to perform high-end tasks. The First Digit after the Cores indicates Generation. For Example, A 7th Generation or an 8th Generation Processor. The 3 Digits to the right side of Processor's Generation represent performance. For Example, An i5-8700 Processor would perform better than i5-8500 Processor.
Another Important Point is the "Clock Speed" and "Boost Clock Speed". A Clock Speed of 3.1 GHz and Boost Clock Speed of 4.3 GHz indicates incredible performance. You Should Choose the Best and Latest Processors on the market. There is no point in buying a 6th Generation Chipset in 2020 when you can get an 8th or a 9th Generation Chipset. The Same Applies to Clock Speeds.
Choosing the Right Storage
2020 is the best time for SSD Storage. SSD's are faster, lighter, more durable, and use less energy than HDDs. The performance of an SSD is unmatched. Solid-state drives use flash memory to deliver superior performance and durability. Hard Disk Drives are used to store more memory but consume more power. Most Computers are hybrid and come with SSD and HDD. A 1 TB HDD + 480 GB SSD is perfect for most hardcore users. SSD would ensure greater speed and HDD would ensure enough storage. PCs now come with dedicated slots to upgrade both SSDs and HDDs. A PC would only HDD Storage would not be a wise decision if you need superior performance on all parameters. We would recommend hybrid storage if you want to buy a PC.
ALL-IN-ONE Desktops Vs Tower Desktops
Desktop computers are designed to lay flat on the desk and combine towers and monitors into one component. Tower Desktops stand upright and pack more than power than desktop computers. They don't come with a monitor. The cost of a Monitor along with the cost of a tower desktop would make the overall cost of tower pcs. Tower Desktops are more useful for superior graphics, performance, hardcore gaming, and major tasks. They are used by gadget geeks who know their stuff. On the Other Hand, Desktop PCs are not hard to configure. They come with a monitor and a CPU built-in which helps with easy usability.
Tower Desktops are usually cheaper than All-In-One Desktops. Both have their own unique capabilities. For Most Users, Desktop PCs are the best choice. Tower PCs are only recommended to those owners who have decent hardware knowledge and know-how to build a PC.
Choosing Graphic Cards
Some Desktop PCs come with a dedicated graphics card. Graphics Card is a piece of computer hardware that produces the image you see on a monitor. The Graphics Card is responsible for rendering an image to your monitor, it does this by converting data into a signal your monitor can understand. Graphics Card is an add on to the existing chipset to enhance core performance. They can help with 3D Printing, Video Editing, Programming, and Gaming. Most Graphic Cards are installed with regards to improving gaming. Hardcore Gamers are willing to shell more money when it comes to a custom graphics card.
Desktop PC FAQ's
Q: What is the best price for buying a PC?
A: It completely depends on the features and specifications of the PC. A Great PC can be usually bought under 5000 AED. Higher-end PC's have great picture quality and deliver superior performance.
Q: Which are the Best Brands for PCs in the United Arab Emirates?
A: Dell, HP, iMacs, Microsoft, and Lenevo are the most sought after brands for PCs. They build the best hardware on the planet.
Q: Should I Choose a Tower PC or All-IN-ONE PC?
A: If you are a gamer or a programmer, go for a tower PC. Sufficient Knowledge of hardware would ensure you achieve great results with tower pcs. For Businesses, Desktop PCs are the most obvious choice.
Q: Where are the best places to buy PCs in the UAE?
A: You can buy it on Amazon, Noon, and Sharaf DG.
Q: Are Dedicated Graphics Cards required for gaming?
A: Most Games don't consume too much power. Hence, you should not choose a PC keeping only graphics card in mind. For Intensive Games like Fortnite or Counter-Strike, go for a PC with a dedicated graphics card.
Q: Are iMacs worth the price?
A: iMacs by Apple deliver stunning results. High-end chipsets and heavy OS makes them expensive. You can count on Apple for providing the best support for your device which may or may not be the case with other brands. iMacs are the most sold PCs in Dubai, Sharjah, and Abu Dhabi. You can consider them for long term performance.
Q: Do PCs come with Webcams?
A: Most PCs come with Webcams. A Webcam may not be the core decision making a part for buying a PC but it remains an important part. A 1080 Pixels Webcam is better on most PCs. For Services like Skype and Zoom, a webcam is required.
Read: Best Gaming Consoles
Read: Best Monitors
Visit Amazon AE Coupons