Refrigerators come today in all shapes and sizes and differ in terms of Type, Capacity, Power Consumption, Ratings, Cooling Techniques, Design, and Price. A lot of things have to be kept in mind specifically because they differ in terms of the technologies and techniques of cooling. There are Single Door, Double Door, Triple Door, Side By Side Fridges available in the market. The Choices are too many and make the buying decision difficult.
Looking to buy the best refrigerator for your home in the United Arab Emirates? We have prepared the list for the best refrigerators you can currently in the United Arab Emirates.
Best Refrigerators in the United Arab Emirates
#1-

Super General 140 Liters Compact Refrigerator

If you are looking to buy a mini-refrigerator in your home, Super General freestanding Mini-Refrigerator is the best choice. Many people work in the United Arab Emirates as immigrants and look for a compact fridge to suffice their needs. This 140 Liter Model by Super General is best for households, kitchens, utility rooms, and small businesses. Super General is a well-known brand and can be seen in most parts of Dubai and Abu Dhabi. The Refrigerators by Super General are as good the air conditioners.
It is perfect for storing fruits, vegetables, water bottles, food, and frozen food. The Fridge comes in a neutral white color and is equipped with one single door. The Mini Refrigerator weighs under 30 kgs which is half of what the 2 door refrigerators weigh. It comes with the defrost function which does the perfect job of removing the ice accumulated in the freezer.
Key Specifications
| | |
| --- | --- |
| Dimensions | 840 x 500 x 560 mm |
| Net Weight | 25 Kgs |
| Net Capacity | 115 Litres |
| Gross Capacity | 140 Litres |
| Style | Freezer |
| Color | White |
| Type | Mini Fridge |
| Additional Features | Defrost and Child-Lock |
The Refrigerator is affordable for many families and costs 475 Dirhams. Super General's Brand stands out for producing affordable products. The Mini Refrigerator is best for small families, bachelors, and small businesses.
#2-

Hitachi 500 Liters Top Mount Refrigerator ( RV500PUK8KBSL )


Looking for more capacity? The Hitachi 500 Litres Top Mount Refrigerator is the right choice for you. It comes with Dual Sensing Control which automatically keeps the cooling at an optimal level. the design of this refrigerator appeals to most people. This Model by Hitachi boasts of 500 Litres Gross Capacity and 370 Litres of Net Capacity. It also saves a lot of money and comes with a Star Rating of 4 out of 5. Additional features include tempered glass shelves, led lights, electronic control, and Thermo sensor among others. You can also change modes to keep fruits and meat.
Best Features
Compact but high power inverter compressor on the Hitachi Top Mount Refrigerator is capable of providing exceptionally powerful cooling by generating a large volume of chilled air while adjusting cooling power.
It enables independent cooling of the freezer and refrigerator compartments, something a single fan can't do. The Dual Fans help with cooling the refrigerator fast and effectively.
Even if the ambient temperature reaches as high as 60°C, every corner inside of the refrigerator is still thoroughly cooled.
Cool Retention Technology
The Refrigerator is capable of keeping fruits and vegetables cool for more than 12 hours even the power is switched off.
All compartments feature LED lighting that lasts a long time and consumes much less energy than other refrigerators.
You don't need a stabilizer for this refrigerator which makes it all the more powerful.
The 4 Star Rating ensures lower bills which would lower the cost of your electricity bill. Usually, Most Refrigerators have a lower rating which increases the amount of the bill.
The vegetable compartment provides plenty of space to store large fruits and vegetables and to keep them fresh. The Compartment is dedicated for keeping a huge amount of vegetables fresh for longer periods of time.
Hitachi Refrigerators have two Eco Thermo Sensors, which detect any temperature changes separately to enable the ideal temperatures to be maintained in each of the compartments at all times.
It would cost you 1800 dirhams and is available on Amazon. This is a refrigerator that is built to last. You wouldn't need to get a fridge for the next 3 years if you buy this model.
#3- Nikai Double Door Frost Free Refrigerator ( NRF400FN4SS )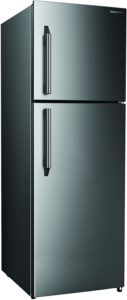 Looking for a double door refrigerator in the UAE? Nikai's 400 Litre Double Door Refrigerator here's for you. 400 Litres is a lot of storing fruits, vegetables, food, juices, smoothies, and all types of frozen items. Thanks to energy-efficient LED interior lighting, you wouldn't need to think about the bills.
Best Features
Adjustable Thermostat

Vertical handle

Defrost

Power saving silent and reliable compressor

Lock and key

CFC FREE

VCM finish

Cooling Type: Defrost

Net Storage: 400 Litres

Gross Storage: 246 Litres
The Double Door by Refrigerator is cost-effective and saves money. It costs only 1000 AED and is more affordable compared to Hitachi, LG, and Super General. You get a double door refrigerator at the cost of a single one.
#4-

Midea 520 Liters Top Mount Refrigerator, Silver ( HD520FWES )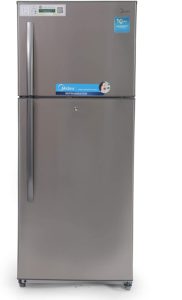 Midea's 520 Litre Refrigerator is a powerhouse in both storage capacity and functionalities. The Refrigerator features a spacious interior, spill-proof shelves, total no-frost technology, among various other features.
Best Features
This Refrigerator is equipped with multi-directional air-flow systems that maintain a balanced circulation of cold air throughout the entire storage compartment. This ensures all products are stored fresh and for longer shelf life.
Midea Refrigerator features LED light in both freezer and fridge compartments ensuring clear visibility, at the same time it is more efficient than conventional light. This would be particularly helpful in the night.
Store 2 Litres Bottles with ease. It has dedicated shelves for bottles which is a functionality most often missed by other companies.
Spill-Proof Tempered Glass Shelves
Strong enough for heavy storage, the advanced shelving design in the main compartment helps to efficiently prevent liquid spills leakage to other areas.
Vegetable Crisper with Humidity Control
Vegetable Crisper and Humidity Control technology maintain the ideal moisture balance to keep fruits and vegetables fresh for a longer amount of time.
The Frost free technology preserves food and keeps it fresh. This ensures that quality is maintained and all nutrients and vitamins remain intact in all produce. Most Refrigerators have this functionality.
The Refrigerator comes with reversible doors. It allows you to change which way the door swings while it is opened.
The Refrigerator is particularly great for larger families with more than 4 people. It is currently available for 1349 Dirhams. 10 Year Warranty is provided for the compressor and 1-year warranty for the standard fridge.
Read: Best Cameras for UAE
Read: Best Coffee Makers for UAE
Read: Best Air Fryers for UAE
#5-

LG 668 Litres Side by Side Refrigerator with InstaView Door in Door ( GRX257CSAV )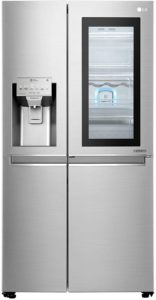 LG is the best brand when it comes to home appliances. The Company launched its first refrigerator back in 1965 and has never stopped innovating. LG's 668 Litre Side By Side Refrigerator is one of the most powerful refrigerators in the UAE. Some Features include Inverter Linear Compressor, InstaView Door-in-Door, DoorCooling+, Water and Ice Dispenser, Multi Air Flow, and Hygiene Fresh+.
Best Features
The Refrigerator comes with a Dedicated Wine Rack that stores up to 4 bottles.
LG's 668 Litre Side by Side Refrigerator comes with InstaView Door-in-Door which ensures that you don't need to open the refrigerator what's inside. You can simply knock the refrigerator twice to illuminate what's inside. This is an awesome feature.
Easy Access to your Favorites
The innovative transparent window on the InstaView Door-in-Door enables you to check on the items stored inside without opening the door by simple two knocks. Easy to find and access your favorites!
Less Cold Air Loss of up to 41%
It essentially reduces cold air loss up to 41% with its InstaView Door-in-Door Technology. This would help in saving money on electricity costs.
Fresh Balancer keeps your vegetables and fruits fresh with the click of a button.
The intelligent air filter on the LG Refrigerator can not only remove bacteria up to 99.999% but also minimize bad odor in the refrigerator. In addition, you can keep your food items fresher in the cleaner condition.
With LG ThinQ, you can control and diagnose your refrigerator by your smartphone even when you're not at home. Easily set the refrigerator temperature, control Express Freeze, and diagnose your refrigerator with a simple touch on your smartphone.
#6- Samsung 720 Liters Top Mount Refrigerator, with Digital Inverter Technology ( RT72K6360SP )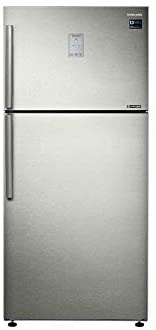 Samsung's 720 Litres Refrigerator is a Top Mount Refrigerator. It comes with awesome features such as Twin cooling, Digital Inverter Technology, Deodorizer, and LED Lightening. The Twin Cooling Plus system cools the compartments separately to stop unexpected odors from spreading from the fridge to the freezer. The Refrigerator has 500 Litres Net Capacity which ensures ample space.
Best Features
Moisture-Full Freshness all over the fridge
The Twin Cooling Plus Technology on the Samsung 720 Litre Refrigerator creates a favorable environment for preserving fresh food in the fridge with 70% humidity, compared to 30% in a conventional refrigerator.
The Twin Cooling Plus system cools the compartments separately to stop unexpected odors from spreading from the fridge to the freezer. The Originality of the food is maintained.
5 Conversion Modes on demand
It comes with 5 Conversion Modes which ensures access to more storage for specific products as frozen meat and fruits.
Creates ice and chills beverages
Rapidly delivers intensely cold air to fast freeze or cool. At the touch of a button, Power Cool quickly chills food and drinks, while Power Freeze is great for freezing or firming up frozen food and meat.
Works longer more quietly & uses less energy
The Digital Inverter Technology used by Samsung automatically adjusts the compressor speed in response to cooling demand across 7 levels. It uses less energy, minimizes noise, and reduces wear and tear for longer-lasting performance.
Samsung's Top-Mount Refrigerator has more than enough storage at 720 Litres. It costs 3,044 Dirhams which may seem expensive but covers up with the best features. It is a bang for the buck and we recommend for homes with 4 or more persons.
Read: Best Hand Blenders in the UAE
Read: Best Gaming Consoles for Dubai
Visit AliExpress Coupon Codes
Buying Guide for Refrigerators in the UAE
Single Door Refrigerators
Single Door Refrigerators often seen in most homes in the UAE. There are economical and do not cost much. They are great for families with 1 to 2 people. Usually, their storage capacity varies from 150-300 Litres. They are perfect for small families. Mini Refrigerators can also be a preferred segment for bachelors. Some Single Door Refrigerators do not auto-defrost feature which is seen in nearly all modern refrigerators. You should always go with the refrigerators that come with the auto-defrost feature as it does not allow ice to accumulate on produce.
Double Door Refrigerators
Double Door Refrigerators for great for families with 3-4 people. They usually have storage capacities from 230-700 Litres which is sufficient for large amounts of vegetables and fruits. They are Energy Efficient and come with freezers on top. They usually suffice all the needs of a large family. Dedicated Racks are provided and they help in segmentation. They usually cost ranging from 600 Dirhams to 4000 Dirhams in Dubai and Abu Dhabi.
Triple Door Refrigerators
Triple Door Refrigerators are relatively new in the refrigerator space. They come with a dedicated vegetable door at the bottom. They would be great for housewives who prefer to segment products. Usually, Triple Door Refrigerators vary from 320 Litres to 700 Litres in terms of storage capacity. They could be preferred by large families. We would recommend Triple Door Refrigerators only if you want a dedicated vegetable drawer. Go for the Double Door Refrigerator if you don't want it.
Side By Side Refrigerators
Side By Side Refrigerators come with the latest technology and are becoming common in larger and influential homes. They come with 550-800 Litres in terms of storage capacity. They are usually with the largest amount of storage and weigh a lot. If you are willing to spend more than 3000 AED on a refrigerator, you should go with Side By Side Refrigerators.
FAQ's
Q: Which refrigerator should I buy?
A: Single Door Refrigerators would be a great buy for smaller families with 1-2 people. If you have more than 3 people in your home, go for a double door refrigerator or a side by side refrigerator. Double Door Refrigerators are energy efficient and would help you save in the long run.
Q: What's the difference between Direct Cool Vs Frost Free Cooling Technology?
A: This is a common question. Direct Cool Refrigerators have manual de-frost systems which means that you would have to de-frost every time. On the other hand. Frost-Free Refrigerators have automatic defrost systems that ensure ice does not stick to all products such as vegetables, fruits, juices, and frozen food. Food Preservation would get much better with Frost-Free Refrigerators and they usually are not expensive.
Q: How are energy ratings assigned?
A: The Best Refrigerators in terms of power consumption are usually rated 4 and higher. The Bureau of Energy Efficiency assigns ratings to refrigerators and is globally recognized.
Star Ratings and Consumption
| | |
| --- | --- |
| 1 Star | Consumes 977 Units of Energy |
| 2 Star | Consumes 782 Units of Energy |
| 3 Star | Consumes 626 Units of Energy |
| 4 Star | Consumes 501 Units of Energy |
| 5 Star | Consumes 400 Units of Energy |
Q: Which are the best refrigerator brands in the UAE?
A: LG, Hitachi, Super General, Midea and Samsung are the best brands for refrigerators in the UAE. Most Homes in Dubai and Abu Dhabi have these brands.
Read: Best Inkjet Printers
Read: Best TVs in the UAE
Find Exclusive Coupon Codes and Discount Offers in the United Arab Emirates
Visit Best Exercise Bikes in the UAE