Redsea is a one-stop shopping website for electronics and is owned by the renowned retailer 'Abdul Lateef Jameel Electronics'. Abdul Latif Jameel Electronics and Air Conditioning was founded in 1945 and has its roots deeply embedded in the MENA Region. Redsea was launched in the year 2015 and quickly rose to prominence in Saudi Arabia.
Redsea sells washing machines, air conditioners, small appliances, kitchen appliances, TVs, Mobiles, Tablets, Coffee Machines, Microwaves, Vacuum Cleaners, Dish Washers, etc. Redsea has emerged as one of the strongest brands in KSA which offers customers the latest appliances and gadgets at affordable prices.
Redsea's Offerings
Large Appliances
Abdul Lateef Jameel Electronics had pioneered the concept of retail in Saudi Arabia. It is also amongst the most popular brands in the country known to offer the best products. Redsea was launched by Abdul Lateef Jameel Electronics to revolutionize e-commerce in KSA. Redsea offers Large Appliances which include Air Conditioners, Refrigerators, Dishwashers, Washing Machines, Gas Cookers, & Electric Cookers. It provides a 2-year warranty which excludes it from the competition. Over 12 service centers across KSA help in repairs and maintenance of the purchased appliances.
Mobiles & Tablets
Redsea is known for partnering with the biggest brands in the region which include Apple, Samsung, OnePlus, Xiaomi, & Huawei to fulfill the needs of their customers. It also provides an unparalleled shopping experience with a wide range of products, a great user experience, and high-quality offerings. Whether it's the latest iPhone or a new gaming console, Redsea provides and delivers it all in Saudi Arabia.
Small Appliances
Redsea provides and sells Microwave Ovens, Water Dispensers, Irons, Coffee Machines, Vacuum Cleaners, and a host of other small appliances. Abdul Lateef Jameel Electronics had also pioneered the introduction of DORA, the Japanese technology brand in Saudi Arabia. It has always been at the forefront of providing quality products.
Returns & Refunds
Redsea offers its customers to return the products within 5 days if any products are found to be defective. Software and Video Games are non-refundable. Refunds are processed to the source mode of payment.
Redsea's Unique Features
Free Delivery
Redsea offers free delivery for all orders which have a cart value of 200 SAR ( Saudi Riyals ). Free Delivery can be availed with the purchase of Kitchen Appliances, TVs, Mobiles, and Air Conditioners.
Free Installation
Redsea also offers Free Installation for Large Appliances like Air Conditioners, Home Appliances & Refrigerators. Customers don't have to pay extra for Installation.
2- Year Warranty
Redsea offers a 2-Year warranty for any appliance bought on the website. Most Retailers in Saudi Arabia offer only a 1-year warranty on major appliances. Redsea stands out on this parameter by providing additional warranty support.
0% Installment Facility
Redsea offers a 0% Installment Facility for payments. The Minimum Order Amount for availing this facility is 1000 SAR. The Facility can be availed at the following banks:
| Bank Name | Minimum Order Amount |  Installment Periods |
| --- | --- | --- |
| SABB | SR 1500/- | 6 & 12 Months |
| SAMBA | SR 1500/- | 6 Months |
| Riyad Bank | SR 3000 Or 6000/- | 12 & 24 Months |
| ALBILAD | SR 1000/- | 12 Months |
How to Shop at Redsea?
Visit Redsea.com
Choose your language
Select and Shop for Products
Add them to your cart
Select Shipping Terms
Check Payment Options and Address
Pay for the order
How to use Redsea Coupon Codes?
Visit our Website
Choose your favorite offer or promo code.
Visit Redsea KSA
Shop normal and add products to your cart
Apply Coupon Code at Checkout
Place the Order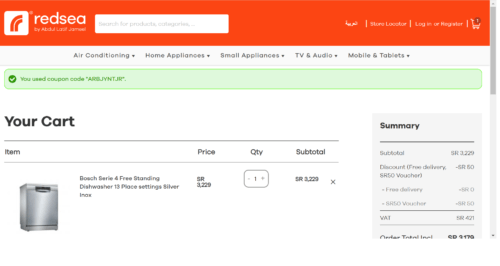 Redsea Coupon Codes and Promo Codes
| | | |
| --- | --- | --- |
| Redsea Discount Codes  | Terms | Validity |
| ARBJYNTJR | 50 SAR Off on Minimum Order of 500 SAR | 28th June 2021 |
| ARBJYNTJR | 50 SAR Off on Small Appliances | 28th June 2021 |
| ARBJYNTJR | Up to 50% Off + 50 SAR Off on Large Appliances | 28th June 2021 |
Verified Redsea Coupon Codes at GC Coupons
GC Coupons provides the best Redsea Coupon Codes and Discount Codes. Get 50 SAR Off Coupon Codes for Redsea exclusively at GC Coupons. Verified Redsea KSA Coupons are available at our website.
Redsea FAQs
Q: Does Redsea provide free delivery?
A: Yes, Redsea provides free delivery on all orders above 200 SAR in Saudi Arabia.
Q: Does Redsea provide installation services?
A: Redsea is one of the most renowned names in Saudi Arabia for offering free installation services for large appliances like Air Conditioners, Refrigerators & Televisions.
Q: How long does Redsea take to deliver an order?
A: Redsea usually all orders within 4 days which includes all large and small appliances.
Q: Does Redsea offer Business Discounts?
A: Yes, Redsea has a dedicated team for handling queries for business requirements. All queries should be sent to support@redsea.com. The Team usually replies within 2 days.
Q: How to find Redsea Coupon Codes?
A: Search on GC Coupons for Redsea Coupon Codes. There are lot of exciting promo codes available for Redsea.
Q: How can I pay at Redsea?
A: Redsea offers various payment methods which include Credit Cards, Debit Cards, Sadad, PayPal, and Cash on Delivery. Customers are free to choose from these choices.
Q: Does Redsea provide a warranty?
A: Redsea provides a 2-year standard warranty for large appliances bought on its website. This is better than most retailers in Saudi Arabia.
Q: How can I Buy Appliances at 0% Installment?
A: Redsea provides a 0% Installment facility on SABB, SAMBA, Riyad Bank,  and ALIBILAD Credit Cards.  You can avail the facility by activating and using your credit cards at checkout. This facility is available only in Saudi Arabia. The Minimum Purchase amount is 1000 SAR for availing this facility.
Q: How many Service Centers are available for repairs?
A: Redsea currently has over 12 dedicated service centers across KSA. These centers are capable of repairing appliances within 2 hours.
Q: Does Redsea have an Arabic Website?
A: Yes, Redsea has an Arabic Website as well as an English Website. Consumers can easily switch languages and find their required products.