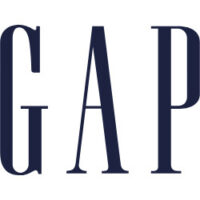 Visit Store
Founded by Donald Fisher and Doris F. Fisher in the year 1969, GAP is an American clothing and accessories retailer. The company is titled as the 3rd largest clothing retailer worldwide. GAP also owns many reputed international lifestyle brands such as Banana Republic, Old Navy, Forth & Towne, Piperlime, and Intermix. GAP is also wildly popular among millennials.
GAP employs more than 1,50,000 people around the world and is one of the best-known brands in the world. GAP serves more than 50 million customers annually. In MENA, GAP serves in the United Arab Emirates, Saudi Arabia, and Kuwait. GAP has more than 150 physical stores across the UAE, KSA, and Kuwait. Shop on GAP and purchase items including dresses, shirts, tops, t-shirts, sweaters, hoodies, and more.
Visit the GC Coupons website and app to avail the latest offers on your purchase.
How to Use GAP Coupon Codes?
Visit GC Coupons and copy GAP's discount code
Add items from GAP to your cart
Enter the coupon code at GAP's checkout page
Avail the discount and pay
Customer Care Information
Phone Number: 800 42763
Email Contact: customercare@gap.ae
Facebook Contact: www.facebook.com/GapIndia
Instagram Contact: www.instagram.com/gapmiddleeast/
What Categories does GAP Offer? 
Women's Clothing
GAP offers and sells Women's Clothing in the UAE, Saudi Arabia, and Kuwait. The Company is known for offering high-end clothing at affordable prices. Customers in MENA can shop for Jeans, Hoodies, Dresses, Tops, Tees, Shirts, Sweaters and Outerwear. The prices for the offerings vary from 19 AED to 250 AED in the United Arab Emirates. GAP also offers free shipping on all orders over 300 AED. The brand charges 19 AED as shipping charge for orders below 300 AED in the UAE.
Women can shop Workwear Essentials, New Arrivals, and Formalwear at GAP.ae in the UAE. GAP is also known for offering the best shopping experience and high customer satisfaction.
Men's Clothing
GAP offers Tees, Shorts, Jeans, Sweaters, Hoodies, T-Shirts for Men in the UAE, Saudi Arabia, and Kuwait. The brand has a great reputation for offering comfortable casualwear clothing for Men ranging from 29 AED to 350 AED. 
GAP also offers exceptional rewards in the form of Amber Rewards. The membership is free to join and has 3 tiers based on the number of points. Amber Rewards help customers save money every time they shop at GAP.
Kid's Clothing
GAP is particularly well known among kids in the range between 6-15 years. The company offers exclusive styles and designs for Kid's Clothing. GAP's online store in the UAE, KSA, and Kuwait offers a seamless buying experience with fast shipping and great discounts. GAP offers Dresses, Skirts, Jeans, Sweaters, and Shoes. Besides Clothing, GAP offers accessories at reasonable prices. The Teen Collection is specially made for young kids and offers great options.
GAP offers Shorts, Shirts, Polos,  Jeans for Boys. Whether you want something for casualwear or are looking for something to wear at a party, GAP has all the options in the UAE, KSA, and Kuwait.
Toddler's Clothing
GAP in MENA offers Toddler Clothing for young kids between the ages of 1-5 years. The brand forayed into this space for being successful in the Kid's Clothing category. GAP's Logo Shop offers custom shirts with the GAP Logo. If you want to flaunt your love of the GAP Brand, you can definitely go to the Logo Shop to shop for great clothes.
GAP's Toddler Clothing are well-known for individuality and uniqueness. The designs appeal to kids and parents alike. GAP in the UAE, KSA, and Kuwait offers Sleepwear and Outerwear for Toddlers. You can avail free delivery in Kuwait for orders above 25 KWD ( Kuwait Dinars ). There is a small delivery fee of 1 KWD for orders below 25 KWD. 
Exceptional Styles from GAP
GAP Offers great styles in Kuwait, Saudi Arabia, and the United Arab Emirates. It is one of the finest fashion retailers in the Middle East. They also offer Kid's Clothing at significant discounts. The company offers 10% reward points on each purchase in the UAE, KSA, and Kuwait. The Reward Points can be redeemed when placing another order. GAP has over 1 million products across 50 different categories. They also offer up to 50% Discount on all styles.
GAP's Logo Shop
GAP has also been known for standing out against the competition. The Logo Shop is a testament to that spirit. GAP's Logo Shop offers clothes with the GAP Logo imprinted in them for showing exclusivity. Kids can shop for anything from Shirts to Jeans at the Logo Shop. GAP is also very affordable and offers clothing from 10 AED to 250 AED in the UAE. Customers can also save up to 70% on various styles during the sale season. Avail Exclusive GAP UAE, KSA, and Kuwait Coupon Codes ( أكواد خصم جاب الإمارات العربية المتحدة) at GC Coupons.
GAP's Special Features
GAP Ramadan Offer
GAP is almost everyone's favorite shopping destination for buying high-quality fashion products. Feel the deluxe experience by shopping on GAP during Ramadan and Eid. Find GAP Ramadan discount codes available on the GC Coupons platform and save up to 75% on your purchase.
Select among t-shirts, polos, jackets, hoodies, sweatshirts, and more. Grab the best deals and make the most out of your shopping experience. GC Coupons is constantly updating its coupons and deals and adding more so you can get the best. Style your Eid fashion with GAP and stay tuned for more coupons and deals coming your way.
Cash on Delivery
GAP Offers Free Cash on Delivery for all orders in the United Arab Emirates. For customers in Kuwait, GAP requires a small delivery fee of 2 KWD when opting for Cash on Delivery. 
60 Day Return Policy
GAP offers its customers the option to return a product within 60 days of receipt. This makes GAP more reliable in the eyes of customers.
Online Payment Options
GAP is also one of the few retailers in the UAE to offer PayPal as a payment option. Customers can also choose to pay at GAP through their debit and credit cards. Refunds are processed faster with online payments.
Amber Rewards
Amber Rewards make shopping more rewarding in MENA. GAP is a participating store for Amber Rewards. Customers can redeem Amber Rewards every time they shop online at GAP.ae.
Click & Collect Facility
GAP offers Click & Collect Facility on its website. This makes shopping easier for customers who live beside a GAP physical store.
2 Hour Delivery in Dubai
GAP.ae offers 2-hour delivery in Dubai. This facility can be availed on selected orders. As GAP is a part of the much-acclaimed Al Tayer Group in MENA, customers have ease of access to a rewarding shopping experience.
100% Verified GAP Coupons
GAP offers 100% verified and regularly checked coupons available on GC Coupons. All coupons are manually checked by GC Coupons' team and are trustworthy. GAP promo codes for customers in the United Arab Emirates, Saudi Arabia, and Kuwait are also automatically activated once clicked on, but still require to be pasted into the checkout page. Check out the best and latest coupon codes available on the website and choose the one that fits. 
All coupons, unless mentioned otherwise, can be used multiple times and on all products. Once expired, the coupons will be automatically removed from the website by GC Coupons. 
| | | |
| --- | --- | --- |
| GAP UAE, KSA & Kuwait Coupons | Terms | Validity |
| S21 | Grab up to 30% Off on Women's Fashion + 10% Instant Discount | Ongoing |
| AC1 | Buy Any 2 Styles for 99 AED + 10% Extra Discount Sitewide | All Users | Ongoing |
| AM12 | Up to 65% Off Sitewide + 10% Additional Discount in the UAE, KSA, and Kuwait | Ongoing |
GAP Offers for Today
Flat 40% Off on All Styles at GAP
Get up to 62% Off on Kid's Clothing
Avail up to 75% Discount on Women's Fashion
Get 30% Off on Workwear Essentials
Shop Denim from 129 AED
FAQs
Q: Is there any minimum expenditure required to avail a GAP Coupon? 
A: No. There is no minimum order amount required to use a GAP coupon. However, read the description box to make sure prior to usage.  
Q: Are GAP coupon codes valid on existing discounts? 
A: Yes. GAP coupon codes are valid on existing discounts unless mentioned otherwise in the terms. 
Q: What is the latest GAP coupon code? 
A: There are quite a few GAP coupon codes available. They include: AC1, AM12, RZ5, and GP82. These coupon codes are valid on all items and applicable for new and existing customers in the UAE, Saudi Arabia, and Kuwait. 
Q: What does exclusive coupons mean for GAP? 
A: GC Coupons offers exclusive coupons for GAP. The term exclusive means that these coupons are only available on the GC Coupons' platform and on the GAP page. So kindly keep a regular check to get the latest deals.  
Q: What are the payment options for GAP?
A: Users can choose to pay through credit cards, debit cards, and PayPal (UAE Users Only). 
Q: What is the best way to save money on my shopping on GAP?  
A: Visit GC Coupons' website and app to check out the latest GAP coupons. The latest coupon codes will be displayed and you can pick your choice. All coupon codes are valid and applicable for your use. 
Q: What is the validity of GAP coupons?
A: GC Coupons has all the details pertaining to every GAP coupon mentioned in the description box. We make sure to remove any expired coupons. If a coupon does not work for you, kindly read the terms as some coupons are only meant for specific products. 
Q: Can I use more than one GAP coupon code at a time?
A: No. GAP only allows the usage of one coupon code at a time. If however there are any current discounts, then you can avail further discounts with a coupon code. 
Q: What is the best promo code for my next GAP shopping?
A: If you are shopping at the GAP, you can avail 10% additional discount by using the following coupon codes: AC1, S21, GG156, AM20, AM12, RZ5, AS6, ICW6, ICW7, and GP82. These coupon codes are applicable for new as well as existing customers. 
Q: How to enter a GAP coupon code? 
A: Once you have your items added to the cart, visit the GC Coupons website and click on the GAP page. Pick the coupon that best fits your shopping criteria and copy-paste it at checkout. The discount will be immediately applied. 
Q: My GAP promo code is not working. What should I do?  
A: Each GAP promo code has its own terms and conditions associated with it. While most coupon codes work for all items, some might be specific to a certain category or country. Kindly read the terms to be sure.  
Q: Is there an expiry date on GAP coupons?   
A: Yes. There is an expiry date on every GAP coupon. GC Coupons makes sure to remove the coupon from the website and app prior to its expiry so you won't have to face any hassle. 
Q: How do I contact the GAP customer support?   
A: GAP offers 24/7 customer support for its buyers. You can contact them via a phone call at 800 42763 in the UAE or email id at customercare@gap.ae. 
Q: What is the maximum discount limit on GAP purchases?  
A: There is no maximum discount limit on GAP purchases. You can avail 10% discount on all purchases. The amount of discount will depend upon your total cart value.