Babyshop Coupons
11 Babyshop Coupon Codes & Offers available
Launched in 1973 by Mukesh Jagtiani in Bahrain, Babyshop is one of the best retailers offering maternity and baby care products. Use the Babyshop promo code "BSA146" and get flat 10% off on everything applicable for customers in the UAE and Kuwait.
Visit Store
Babyshop was founded in the year 1973 by Mukesh Jagtiani in Bahrain. Babyshop was the first children's retail store that was introduced by the Landmark Group in the Middle East. The Company expanded its operations in the GCC by introducing its first store in Sharjah, UAE in the year 1990. In the formative years, the company served its customers pretty well which led to its continued success and further expansions.
The Company currently serves over 19 countries including the United Arab Emirates, Saudi Arabia, Kuwait, and Bahrain. Babyshop presently operates more than 235 physical stores across the GCC with major big box stores in the UAE, KSA, Kuwait, and Bahrain. The Brand usually opens more than 30 stores every year.
The Company also has introduced major campaigns that encourage child safety and child care. In the year 2011, Babyshop introduced a campaign titled "Child Safety First" which led to taxi companies introducing child safety seats in all of their cars.
Babyshop's e-commerce website went live in 2016 with over 30,000 products and began serving the UAE, KSA, Kuwait, and Bahrain. Since 2016, the Company began focusing hard on its e-commerce operations. Babyshop is owned by the Landmark Group. The Group also owns major brands in the GCC which include Splash, Centrepoint, Max Fashion, and Home Centre among the most well-known ones. Babyshop offers Baby clothing, kids clothing, feeding essentials, toys, health & safety gear, school gear, and furniture on its website and app to all customers.
What Categories does Babyshop Offer?
Babyshop offers their customers with an extensive range of products under categories including toys, clothing, baby gear, maternity clothing, body care products, bedroom items, and more.
Find action figures, dolls, dollhouses, shampoos, creams, lotions, oils, soaps, bottles, teethers, wardrobes, tables, chairs, and more.
Visit the Babyshop page on the GC Coupons website and app to get the best discounts on your order. These coupon codes are applicable for new and returning customers in the United Arab Emirates and Kuwait.
Clothing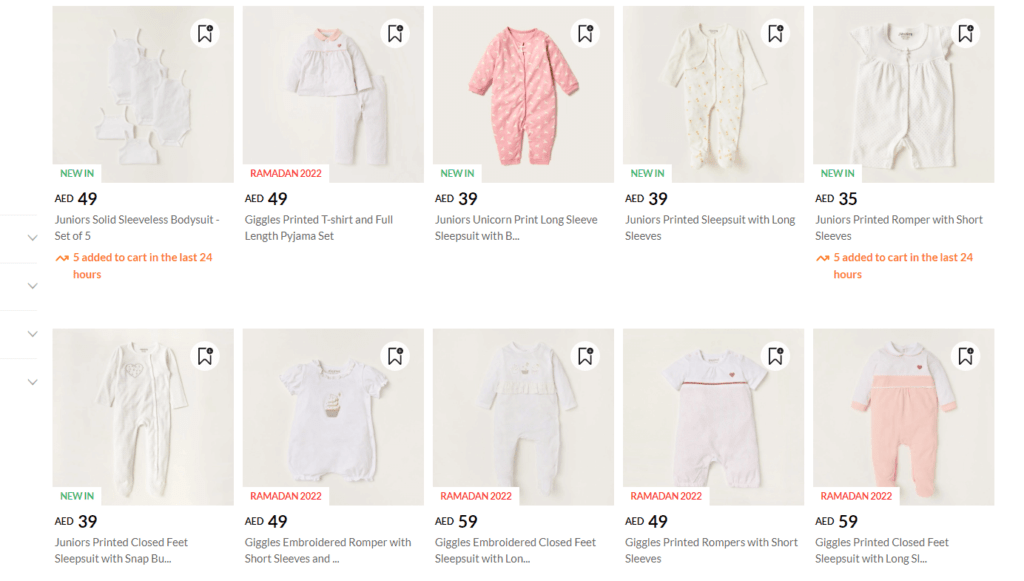 Babyshop brings to its customers a collection of kids' clothing. Shop and find bodysuits, dungarees, sleepsuits, t-shirts, skirts, pants, shorts, and more. GC Coupons offers verified Babyshop Promo Codes on their website and app. These coupons will help you save up to 55% on all purchases. 
Travel Gear

Shop from Babyshop and grab up to 65% off on travel gear. On shopping on Babyshop, one can find baby swings, strollers, carriers, car seats, carrycots, walkers, rockers, and more. GC Coupons provides verified Babyshop coupons available on the GC Coupons website and app. 
Maternity Essentials
Purchase the latest maternity essentials on Babyshop. Select among clothing, body shapers, creams, lotions, nursing pillows, and more. Customers in the United Arab Emirates and Kuwait can save up to 40% on their purchases with the help of Babyshop voucher codes.
BabyShop Voucher Codes
| | | |
| --- | --- | --- |
| BabyShop Coupons | Description | Validity |
| BSA146 | Redeem up to 60% Off on Maternity Clothing + 10% Additional Discount | Ongoing |
| BSA147 | Avail up to 50% Off on Toddler Clothing + 10% Extra Discount | Ongoing |
| BSA148 | Get up to 25% Off on Kids' Footwear + 10% Instant Discount | Ongoing |
Babyshop Discount Deals
Get up to 60% Discount on Maternity Wear
Up to 30% Discount on Grooming & Oral Care
Up to 25% Discount on Baby Clothing
Save up to 70% Discount on Kid's Fashion
How to place an order at Babyshop?
Visit Babyshop.com
Choose the Country (UAE, KSA, Bahrain, or Kuwait)
Choose the language
Browse from thousands of products
Add the required products to your cart
Apply a discount code
Select the address and check the shipping availability
Select between the Delivery Speeds
Proceed to pay for the order
The order will be placed successfully at the Babyshop
How to use Babyshop Coupons?
Visit our website or Search for GC Coupons
On our website, search for Babyshop
Choose the best coupon from the lot
Copy the coupon by clicking on "Get Code"
Paste the coupon to the shopping cart page
The Coupon has to be pasted in the "Have a Discount Code" Box
Discount will be applied successfully
Now proceed with the delivery options and payments
The order will be placed successfully after paying for the order.
Customer Care Information
Babyshop Customer Care Email Id: help.babyshopstores.com
Babyshop Customer Care Number: 800-22297467
Facebook Contact: https://www.facebook.com/BabyshopArabia
Instagram Contact: https://www.instagram.com/BabyshopArabia
Twitter Contact: https://twitter.com/babyshoparabia
Return Policy
All products bought at Babyshop can be returned within 14 days from the date of delivery. The products must not be damaged, used, or altered. Some products which include nappies, nursing & maternity products, bathrobes, and towels cannot be accepted for returns.
Babyshop usually processes a refund to the original mode of payment within 4-7 days of accepting the return. Shipping charges are not refunded.
Shipping
Babyshop offers free delivery for all orders above 200 AED/SAR in the United Arab Emirates and Saudi Arabia. However if the order amount is less than 200 AED/SAR, a fee of 18 AED is charged as a shipping fee in the UAE and Saudi Arabia. If Customers pay via Cash on Delivery, an additional charge of 10 AED/SAR is applicable in the UAE and Saudi Arabia.
Babyshop's Unique Features
Gift Cards
Babyshop offers gift cards on its website which can be used to buy anything on the website. Customers can use gift cards to save time and money. Using gift cards also removes the hassles of refunds for returns. The gift cards are often offered for a discount which helps you save money.
Mobile Apps
Babyshop has its own apps on Google Play Store and Apple App Store. This makes shopping on your mobile easy. Browsing through thousands of products and ordering on your smartphone is easy. This helps customers to find their required products quickly. The app is also intuitive and has the same features as the website.
Click & Collect Facility
Babyshop like other retailers offers a Click & Collect Facility. Customers can order products on the website and app and click from their nearest Babyshop store. You can also find Babyshop Coupon Codes(كوبون بيبي شوب) and Promo Codes on our website for the UAE, KSA, Bahrain, and Kuwait.
Popular Babyshop Promo Codes and Discount Codes
You can find Babyshop Coupons and Promo Codes at GC Coupons. The Babyshop coupons are applicable in the United Arab Emirates and Kuwait. The coupons can be used on Babyshop's website and app.
FAQs
Q: How will I get to know the latest offers on Babyshop?  
A: GC Coupons regularly updates its Babyshop page. When in the mood to shop, visit our website or download our app to receive the latest coupon codes.   
Q: What are the latest Babyshop coupon codes?
A: The latest Babyshop coupon codes are: BSA146, BSA147, and BSA148.
Q: How to use a Babyshop voucher code?  
A: In order to make the best use of Babyshop coupons, read the descriptions and make sure you have the best one. Click on the coupon and the link will direct you to the Babyshop website. You can add it at checkout to redeem the discount.      
Q: What is the maximum discount limit on Babyshop purchases?  
A: There is no maximum discount limit on your Babyshop purchases when using our coupon code. The limit depends upon your cart value. 
Q: My Babyshop coupon code is not working. What do I do?   
A: All Babyshop coupon codes available on the GC Coupons platform are applicable for all products. In case any are not working, kindly read the terms to ensure your cart meets the requirement.
Q: Can I cancel an order once it is placed? 
A: Yes. You can cancel an order once it is placed on Babyshop. This is only possible if the item has not been dispatched. 
Q: Are there any special discounts on my first order on Babyshop?
A: Yes. There are some special discounts on your first order on Babyshop. To know more, keep an eye out on our page and we will keep posting new coupons for your use.  
Q: Can I share my Babyshop coupon code with my friends and family?     
A: Yes. You can share your Babyshop coupon code with your friends and family. 
Q: How do I contact Babyshop customer support?   
A: Babyshop offers its customers with quick and easy customer support. You can contact them via email help.babyshopstores.com or phone call at 800-22297467.